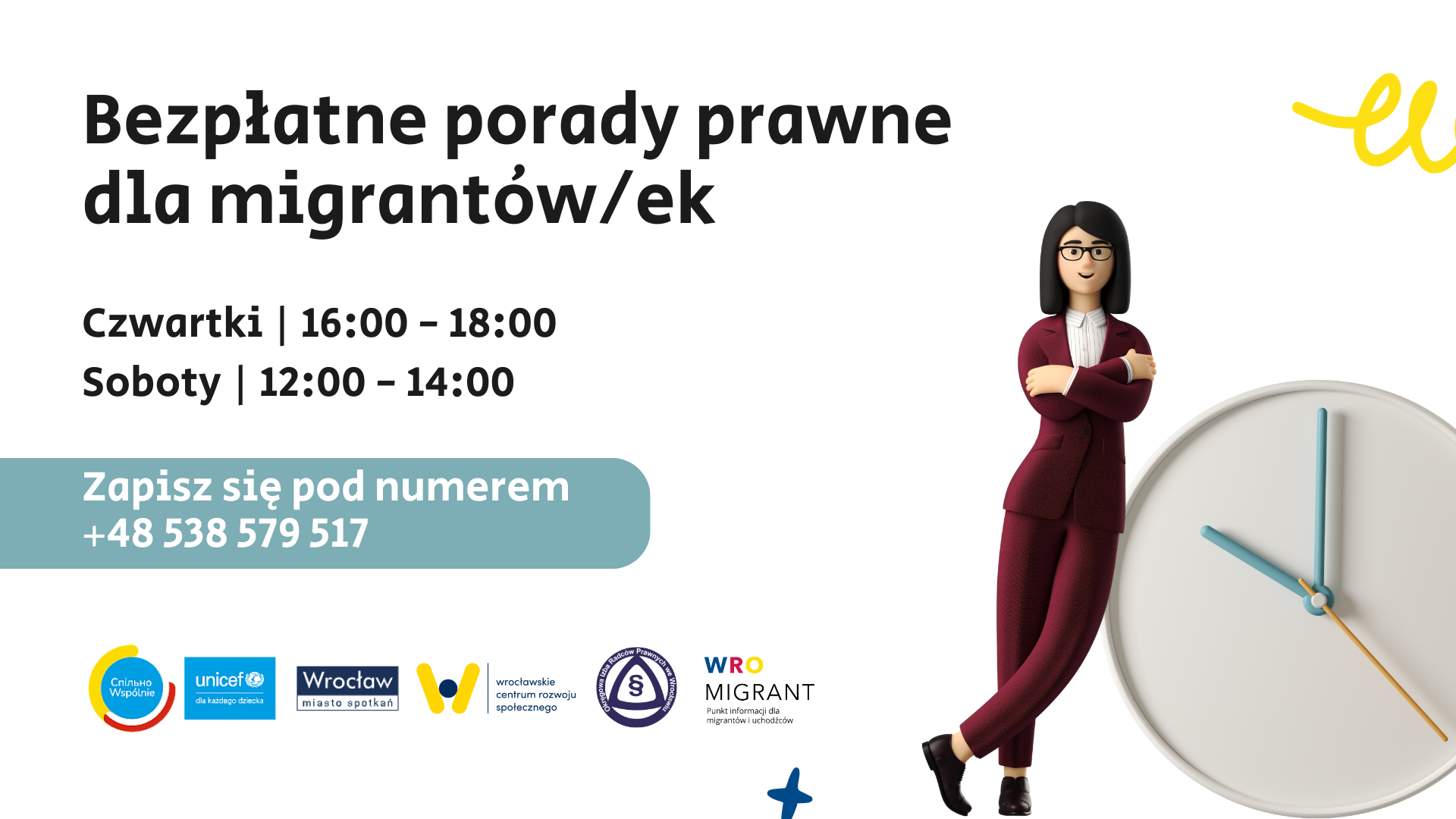 Date
Apr 20 2023
Expired!
Legal consultations
The Wrocław Center for Social Development, in cooperation with the District Chamber of Legal Advisors (OIRP), invites you to free legal consultations at the Przejście Dialogu.
Our assistance is primarily directed towards individuals with refugee or migrant experience from Ukraine, but also towards all new residents of Wrocławю
Consultations take place on Thursdays from 4:00 p.m. to 6:00 p.m. and on Saturdays from 12:00 p.m. to 2:00 p.m.
Pre-registration is required! You can make an appointment by calling: +48 538 579 517.
Contact OIRP specialists if you need to consult on the following legal issues:
safety and criminal matters (e.g. contact with police, prosecutors, courts, Border Guard, including assistance in preparing appropriate documents, etc.)
disputes related to employment and work (e.g. concluding and terminating employment contracts, compliance with employment conditions, overdue payment, etc.)
family law matters with international aspects (e.g. temporary custody of a minor, divorce, child support, etc.)
housing issues (e.g. signing a lease agreement, returning a deposit, etc.)
property matters (e.g. assistance in granting power of attorney, etc.)
disputes with authorities (e.g. refusal to enroll a child in school, registration, etc.) and others.
We provide translation into Ukrainian or Russian during consultations with lawyers.
We would like to remind you that for matters related to legalizing your stay, applying for international protection, education, housing, administrative matters and many others, you can consult with the WroMigrant team or participate in appropriate training.